Nelson Mandela
"Let freedom reign. The sun never set on so glorious a human achievement."(Nelson Mandela)
Nelson Rolihlahla Mandela was the son of one of South Africa's leading dignitaries, Chief Henry Mandela of the Tembu Tribe, and it was as a young law student that he became involved in political opposition to the white minority regime. Joining the African National Congress (ANC) in 1942, he co-founded its more dynamic Youth League two years later.
The 1948 election victory of the Afrikaner-dominated National Party led to the apartheid system of racial segregation becoming law. Mandela rose to prominence in the ANC's 1952 Defiance Campaign and the 1955 Congress of the People, whose adoption of the Freedom Charter provided the fundamental program me of the anti-apartheid cause.
Initially committed to non-violent mass struggle and acquitted in the marathon Treason Trial of 1956-1961, Mandela and his colleagues accepted the case for armed action after the shooting of unarmed protesters at Sharpeville in March 1960 and the banning of anti-apartheid groups.
In 1961, he became the commander of the ANC's armed wing, Umkhonto we Sizwe. In August of the following year, he was arrested and jailed for five years. In June 1964, he was sentenced again, this time to life imprisonment, for his involvement in planning armed action.
He started his prison years in the infamous Robben Island Prison, a maximum security facility on a small island off the coast of Cape Town. In April 1984, he was transferred to Pollsmoor Prison in Cape Town and in December 1988 he was moved to the Victor Verster Prison near Paarl from where he waseventually released.
During his incarceration Mandela taught himself to speak Afrikaans and learned about Afrikaner history. He was able to converse with his guards in their own language, using his charm and intelligence to reason with them and try to understand the way they thought. This caused the authorities to replace the guards around regularly Mandela as it was felt that they could were becoming too lenient in their treatment of their famous prisoner.
Out of the night that covers me,                   
Black as the pit from pole to pole,
I thank whatever gods may be
For my unconquerable soul.
In the fell clutch of circumstance
I have not winced nor cried aloud.
Under the bludgeonings of chance
My head is bloody, but unbowed.
Beyond this place of wrath and tears
Looms but the Horror of the shade,
And yet the menace of the years
Finds and shall find me unafraid.
It matters not how strait the gate,
How charged with punishments the scroll,
I am the master of my fate:
I am the captain of my soul.
Twenty-seven million people live in slavery—more than twice the number during the peak of the slave trade. And more than a billion adults are unable to read. Given the magnitude of human rights violations—and those listed in the Violations of Human Rights section of this website are only a glimpse of the full picture—it is not surprising that 90 percent of people are unable to name more than three of their thirty rights.
Who, then, with so many unaware of their most basic rights, will make sure that human rights are promoted, protected and become a reality?
To answer that question, we can draw inspiration from those who made a difference and helped create the human rights we have today. These humanitarians stood up for human rights because they recognized that peace and progress can never be achieved without them. Each, in a significant way, changed the world.
Martin Luther King, Jr., when championing the rights of people of color in the United States in the 1960s, declared, "Injustice anywhere is a threat to justice everywhere."
The great advocate of peaceful resistance to oppression, Mahatma Gandhi, described nonviolence as "the greatest force at the disposal of mankind. It is mightier than the mightiest weapon of destruction devised by the ingenuity of man."
Fighting fiercely against religious persecution in eighteenth-century France, Voltaire wrote, "I disapprove of what you say, but I will defend to the death your right to say it."
Thomas Jefferson, inspiration and principal author of the American Declaration of Independence, declared that "The care of human life and happiness, and not their destruction, is the first and only ligitimate object of good government."
Nelson Mandela, one of the most recognizable human rights symbols of the twentieth century, is a man whose dedication to the liberties of his people inspires human rights advocates throughout the world. Born in Transkei, South Africa, Mandela was the son of a tribal chief, and educated himself with a university degree and law degree. In 1944, he joined the African National Congress (ANC) and actively worked to abolish the apartheid policies of the ruling National Party. On trial for his actions, Mandela declared, "I have fought against white domination, and I have fought against black domination. I have cherished the ideal of a democratic and free society in which all persons live together in harmony and with equal opportunities. It is an ideal which I hope to live for and achieve. But if need be, it is an ideal for which I am prepared to die."
Sentenced to life imprisonment, Mandela became a powerful symbol of resistance for the rising anti-apartheid movement, repeatedly refusing to compromise his political position to obtain his freedom. Finally released in February 1990, he intensified the battle against oppression to attain the goals he and others had set out to accomplish almost four decades earlier. In May 1994, Mandela was inaugurated as South Africa's first black president, a position he held until 1999. He presided over the transition from minority rule and apartheid, winning international respect for his advocacy of national and international reconciliation. An international celebration of his life and re dedication to his goals of freedom and equality was held in 2008, on the occasion of his 90th birthday.
A nation on edge
Mandela last appeared in public during the 2010 World Cup hosted by South Africa. His absences from the limelight and frequent hospitalizations left the nation on edge, prompting Zuma to reassure citizens every time he fell sick.
"Mandela is woven into the fabric of the country and the world," said Ayo Johnson, director of Viewpoint Africa, which sells content about the continent to media outlets.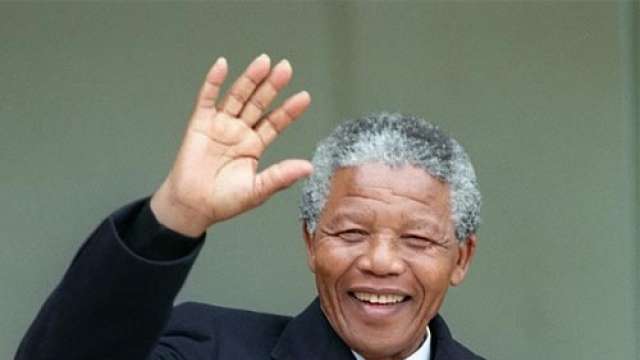 When he was around, South Africans had faith that their leaders would live up to the nation's ideals, according to Johnson.
"He was a father figure, elder statesman and global ambassador," Johnson said. "He was the guarantee, almost like an insurance policy, that South Africa's young democracy and its leaders will pursue the nation's best interests."
There are telling nuggets of Mandela's character in the many autobiographies about him.
An unmovable stubbornness. A quick, easy smile. An even quicker frown when accosted with a discussion he wanted no part of.